Tips to Declutter & Transition Your Decor to Your New House
10 Moves in 12 Years- I have lived in 5 states (VT, NY, KY, IN, FL) in a decade! So with 12 different houses and apartments in a variety of shapes and sizes I have learned to shed the unnecessary and repurpose the existing. I'm all about saving the $$ and spending it on things that really matter and I've found ways to do that everywhere I've lived. For me every move is like a puzzle, I get to find out new ways to use my decor.
With all my moves I have slowly developed a process that helps me purge, declutter and refresh and I'm going to share all of my steps with you!
Our Crazy Week and A Half - from NYC to FLORIDA
A crazy 10 days with our our toddler, 90 lb. Lab/rott/Pit mix and 2 cats and drove 2 cars for over 20 hrs over 3 days!
Our road trip began with one of my cats (Mia aka M.I.A bc she pulls this shit every time we move), scared out of her mind chilling behind the pipes in my basement floor joists in NY. After almost 2 hrs of coaxing, were able to grab her out and get on the road. For a while there I didn't think she was going to be coming with us!
Since we found out that our furniture was going to take 10 days to get to our new house we had a little time to kill. My mom came with us to help with Ellie in my car and mike took the zoo. So after driving to Virginia the first day we went to Charleston SC the second day and stayed at my lovely inlaws house for 4 days. I love Charleston it's just so charming!
My mom and I headed down a day before my husband to get the house cleaned up and walls washed so we could paint over the weekend before the truck arrived with our stuff.
One Problem After The Other
So we drive 6 hrs and get to the house around 7 pm only to find the lockbox containing the key had been drilled into and was open with the keys just sitting there. I checked it all out with my mom (as Ellie slept in the locked ac car) and it was all clear. Turns out the company installing the appliances apparently did it. But wow wtf! We had the locks changed regardless. Then I get in the house and try to flush the toilet- no water. The city had turned it off because the house was vacant for so long. Cool, I'll call in the morning no worries, we'll set up the air mattress. We borrowed it from my husbands parents and its one of the self blow up with a base from Grandin Road- blow it up and go to put Ellie to sleep. Tiny hole squeaking all the air out... So we said Fuck it and went to the Marriott for the night!
The next morning we came back and cleaned the house top to bottom so we could prep for painting. My husband came down that afternoon and helped us straighten everything out with the leasing office.
The next couple of days were filled with cleaning and painting in the bathroom, kitchen and living/dining room. I wanted to paint before we get all the furniture in. I chose a neutral paint with Agreeable Gray from HGTV Sherwin Williams. It pulls the beige undertones from the oak flooring and keeps the room looking fresh and airy. I also love how it plays with cool grays- it is such a versatile paint color that during different lighting throughout the day it can look more cool while others it looks like a warm gray.
So we continued painting and my husband doing yard work for the next 2 days. This house was left vacant for over 2 months while we moved down so there was and still is a lot to do outside. While he was weedwacking one afternoon, he came sprinting in the house white as a ghost and told us he had just seen a huge 5' black snake sunning itself in the driveway (I'm sure there was some exaggeration there lol). When it saw him it started running along side of him as he ran away. SO great we have massive snakes in our yard. I fucking haaateeee snakes.
That night my husband and father in law set up our new washer and dryer. Yay! Finally we have laundry- the first time in 3 years after bringing it to the fluff and fold every week and paying a fortune in the city. So they move on to something else and I start a load of laundry. About half way thru my husband came running up the stairs around 9:30pm and told us that the laundry drain had flooded all over the floor where! At this point we were so over this house we were wondering if it was actually going to work out.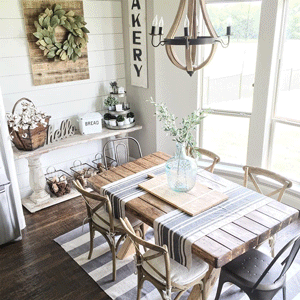 It definitely has its faults, but we are really making it our own and learning its quarks. Like how the previous owner did all of his own wiring for cable and half of the electrical. They put 7 ceiling lights in the bathroom downstairs (with a beautiful shower) and 0 lights in my daughters room. Why?? There is a cable outlet in EVERY. SINGLE. ROOM. Even the kitchen and closet. WHYY?? There is a second make shift cable box outside and we couldn't figure out why we didn't have power in the living room or entryway fan. We found out they had removed a ceiling fan (we have dangling wires there now with caps) and when they did they had turned off the electrical outside on a separate box. So the electrician got the breaker working for the can lights but the fan and light in the entryway apparently needs a remote to control it- which was missing from the house.
I should mention that this house was purchased by the listing company as a foreclosure. We fell in love with it for its potential, size and location. My husbands commute is now less than 10 minutes opposed to city driving and 1.5 hrs to drive 4 miles to work. In the end I'm going to love living here- until we move on in a year or two once we get our footing in this town.
FINALLY Monday came and the truck with everything we own arrived. It took about 7 hrs and 2 men to unpack and set up our furniture. But I had already had tentative plans for where I wanted all my big furniture. I suggest making this a priority when planning your move. You have to think outside of the box and consider different uses for your furniture- what worked before may not work in your new house.
Our 30 Year Old Hodge Podge of Decor
So, I'm 30 (well, I will be in August) and I'm going thru a time in my decor(I know you can relate) where we have a really really nice things, but then we have a weird collection of stuff my husband came with (which has made its way mostly to the garage), the hammy-downs from our parents and grandparents. As I'm sifting through our miscellaneous "treasures" for the first time in 3 years since we moved to the Bronx, I'm made super aware of the following things:
1. Our styles change a lot over the past decade!
2. We live with various roommates, significant others or family members and we accumulate their stuff in addition to the stuff we bought together that isn't our style but somehow we ended up with it.
3. Our families give us a LOT of weird stuff they thing we will use but really don't even know what it does! I'm talking kitchen utensils that not even my Executive Chef husband can decipher.
4. We compromise our style for function and price.
UnPacking- A Chance to Declutter
The seamlessly never-ending packing and unpacking of our lives in boxes and totes. But this is the best time to let go of the broken, the unused, the too small, the too warn and what ever else we have taking up space with no function in our lives any more.
Now, you better believe that I still have my tote of old sentimental t-shirts and my favorite pair of size 0 skinny jeans. But I used this move to purge stuff that u haven't used and don't have any intention on doing so again. I ended up donating a lot of clothes from myself and husband and some other things to a church thrift shop on my street in the Bronx.
We also threw out anything that couldn't be washed, scrubbed, glued, or refinished. No sense having it sit on a shelf or in a box at the new house with no purpose. Though we still moved with a ton of stuff it still felt great to shed our old city life and transition into a more family friendly, uncluttered lifestyle.
My Packing and Unpacking Process
As I was packing I packed related things together so when I unpack I know right where everything is. For instance, I take all my curtains from every room (wash them) and any that I have in storage and put them all in one box. I do this with anything that is similar- like bedding, bathroom and vanity supplies, towels, wall decor etc. I prefer to do this instead of packing the entire contents of a room in boxes with unlike pieces. When you get to the new house now you don't have to go searching for all your window treatment options. Since I will be showing you how to decorate in layers this is the most organized way to repurpose your decor and learn where you need to buy new pieces!
I go through everything- bins, boxes, totes, binders, clothes- whatever I find that hasn't been touched since we moved last and seriously consider what I need in my new place. I hate throwing things away so I try to donate as much as possible to someone who can use it!
After I've sorted everything and put all similar items together I label the outside of every box with a title that clearly tells what is in each box. That way when I unpack or the moving guys know which room to put everything in. For this move, I had the movers put almost everything in the basement open area for me to slowly sort over the next week. Because everything is clearly labeled though, I could pull out anything that I needed right away. Things I knew I'd need in the kitchen or bedroom upstairs I had placed there right away. Since I had sorted and labeled everything, I was able to unpack and put everything away in the basement in about 6 hrs total. This was what it looked like when the truck was unloaded- and this is just a part of the basement! There was stuff in every room too!
 
The First Step to Decorating Your New House- Start Fresh
Once you get unpacked enough that you can relax. You gotta chill for a second and breathe! We just hung out one night after we got the house 80% unpacked and let ourselves recharge.
But after that- I was ready to start decorating! While unpacking I put away in an organized way so nothing was left out as I was finishing emptying the boxes, once I unpacked something it immediately went away in its new home- but since I packed everything similar before- it was super easy to transfer! The only things that remained out were cleaning supplies and the basics.
This is the freshest start you can have in decorating your home. No pillows, rugs, decor, curtains out to clutter your ideas- just one layer at a time. Even if you haven't just moved you should consider emptying your room (or rooms that aren't working) and putting all similar elements together so that you can refresh your design. Almost like you have created your own store of decorative pieces and you get to shop and see where they work best in your new house! Here is my living and dining room fresh start- Subscribe below to watch as I add layers and create my cozy space. I threw out my rug to get a new one for this house. The side tables were in my bedroom before and glass round ones were next to it before- they are now my nightstands. Starting fresh is allowing me to use all decor that I have sorted through and add new decor pieces to fill in the holes.
The Next Layers- Create Your Cozy Home
This next step may take months- just know that. IT IS OK! Not everything needs to happen all at once when you move. It's ok to wait and make decisions that you love and aren't going to regret. So for now- go shopping in your "new store" that you have created and start using what you have. Use what you have and make it work until you are ready to pull the trigger on the next layers. You can switch out pieces over time but at least for now you have a cozy atmosphere that doesn't feel like a bare house. Having a bare house is what drives my clients crazy- so before you throw out everything- think about a reuse for it at your new house and maybe thing twice about tossing it.
My 1 Week Progress
Besides going with neutral paint colors on the first floor to soften up the rooms, I have added curtains to my living room (Check out my Curtain Hanging Blog Post- coming soon) because I found these beautiful Tommy Hilfiger panels at HomeGoods. They are bold and I want to use them as a backdrop for selecting all the rest of the decor. Then I pulled out all my monochromatic pillows and have arranged them so they correspond with the open concept on the floor. Since my design style is Cosmopolitian Farmhouse I love neutral colors and bold prints with elements of coastal, modern and rustic refined farmhouse design.
So in 1 week I have managed to do ALL of this (with a toddler):
1. Paint almost the entire 1st floor.
2. Unpack 90% of boxes (Because I was hyper organized for the move)
3. Effectively organize and put everything in functional storage places for minimal clutter.
4. Hang Curtains in the living room.
5. Select a pillow combination from my existing pillow collection.
I have been busy working on little sections of other rooms at the same time with fun DIY projects and I have a lot in store to share with you! So subscribe to my blog and watch as I design the next layers of my design and show you how you can do the same thing at your house to create a stunning space you are proud to show off!
Disclosure: This post may contain affiliate links, which means I may receive a commission if you click a link and purchase something that we have recommended. While clicking these links won't cost you any extra money, they will help me keep this site up and running.
Check out this other awesome design stuff!